THE STUDY OF UNIVERSITY PROGRAMS IN THE CZECH REPUBLIC FOCUSED ON EDUCATION
Ключові слова:
education, national qualifcation framework, teacher's profession, accreditation, standards for education, pre-graduate education, further education of pedagogical staff, ICT competences of teachers
Анотація
The paper presents an overview of study felds at universities in the Czech Republic, which are aimed
at achieving the qualifcations required for the performance of educational professions, respectively
educational roles. The fundamental differentiation criterion is their main focus on one of the aspects
of complex education, specifcally education and upbringing. Professions of an educator, special
and social pedagogue or a leisure time teacher are considered to be the professions predominantly
focused on education. University education for the previously stated occupational subgroups
implemented so far is built on study programs that have been created by teams of academic
staff and accredited by the Accreditation Commission. They are usually based on the erudition
and personal experience of their authors and assessors and without any professional standards.
The amendment to the University Education Act has fundamentally changed both the procedures
for the accreditation of study programs and the functioning of the newly established accreditation
institution — the National Accreditation Ofce. The study introduces the legal standards applicable
to accreditation procedures as well as the fundamental changes in functioning of universities due
to these rules. Apart from that, the curriculum design includes current education and training
practices with a number of national (both positive and negative) characteristics and oddities
identifed on the basis of the (inter)national research, analysis, monitoring or good practice. Today´s
educational reality is the result of the involvement of stakeholders who reflect it critically in terms
of their expectations and needs. They provide feedback to universities necessary for the innovations
of graduate profles, the aims and content of their studies and the future educators´ teaching and
learning processes. With regard to the implementation of the national digital education strategy,
the possibilities of universities to respond to its objectives by preparing new subjects for teacher
education are mentioned.


Завантаження
Дані завантаження ще не доступні.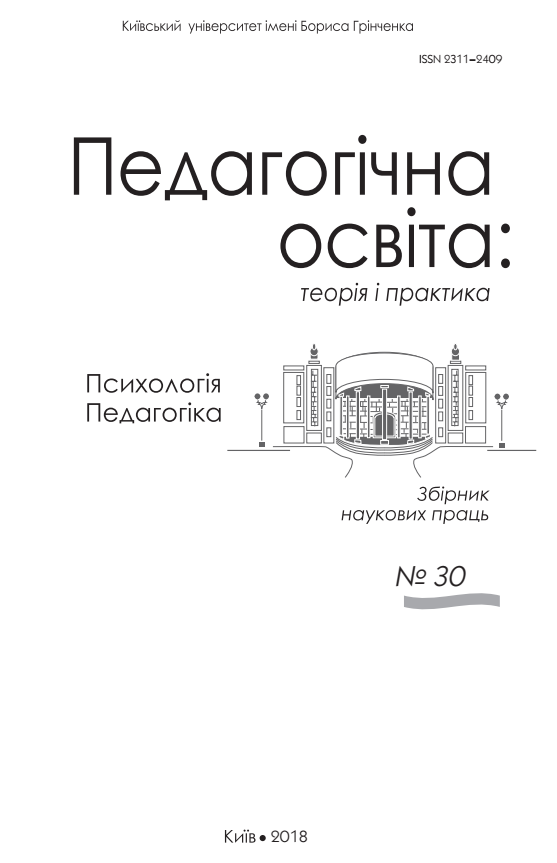 Downloads
Переглядів анотації: 151
Як цитувати
Malach, J., & Havlásková, T. (2020). THE STUDY OF UNIVERSITY PROGRAMS IN THE CZECH REPUBLIC FOCUSED ON EDUCATION. Педагогічна освіта: Теорія і практика. Психологія. Педагогіка., (30). https://doi.org/10.28925/2311-2409.2018.30.917
Розділ
ЄВРОПЕЙСЬКІ НАУКОВІ СТУДІЇ